Location of The Parish of Traprain
On 30th September, 1999, the Parishes of Prestonkirk, Stenton and Whittingehame were united to form the new Parish of Traprain. The new ecclesiastical parish encompasses a sizable part of East Lothian, in the east of Scotland, and lies about 22 miles from Scotland's capital city of Edinburgh.
In the south, the parish stretches into the Lammermuir Hills until it reaches East Lothian's boundary with Scottish Borders. Most of the population is in the north, in the town of East Linton, the village of Stenton, the hamlet of Whittingehame, and the many farms, steadings, country houses and cottages which are scattered throughout the parish.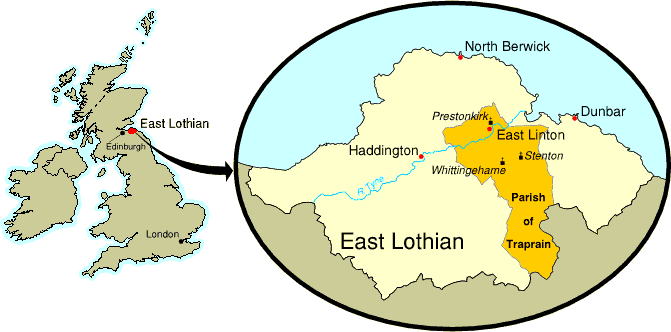 Follow this link to see a map of the former parishes



Link to Prestonkirk Burial Ground Survey
Link to Stenton Burial Ground Survey
Link to Whittingehame Burial Ground Survey
---
Page last updated 28th May,2012
Please contact us if you have any comments about this page or if you have any problems with it.
---